1
« on: April 25, 2020, 10:39:39 AM »
We strongly recommend individuals supplement with Vitamin D3 and K2 as a preventative measure, both for the general flu and especially to help protect against infection from Sars-CoV-2.
I've long believed that adequate levels of vitamin D in the body protect against acute viral infections. However, I have come across individuals who have supplemented with D, and yet have still come down with pretty severe case of the flu. What gives? Is the information wrong, or are there more elements and variables at play?
I used to believe that supplementing with a good D/K product was enough, without giving it much thought. It turns out, though, that some people-- maybe even a lot of people-- might need to take as much as 10,000 units daily (temporarily!) in order to reach ideal levels of Vitamin D (and cofactors) in the body.
"Traditionally", most people only supplement with 1-2K units... So, it's no wonder that some people might still be at greater risk for getting ill.
I personally thought my 1,000 units of D, along with at least 30 minutes out in the Las Vegas sun, would do the trick. It wasn't until I got tested that I realized my levels were still far too low! But, that is the beauty of real functional medicine. You can test to get an accurate baseline.
Therefore, it is strongly advisable that individuals get tested to determine how much Vitamin D to supplement with in order to achieve "levels" between 50 ug/ml and 60 ug/ml, while maintaining levels below 80 ug/ml. Home testing kits are available.
Please review the following charts, provided by "Grassroots Health", which document the conclusions of a study done in Asia, which was compiled from studying data taken from three different hospitals. All test subjects had their vitamin D levels tested having been admitted to the hospital, with varying degrees of severity of the COVID-19 infection: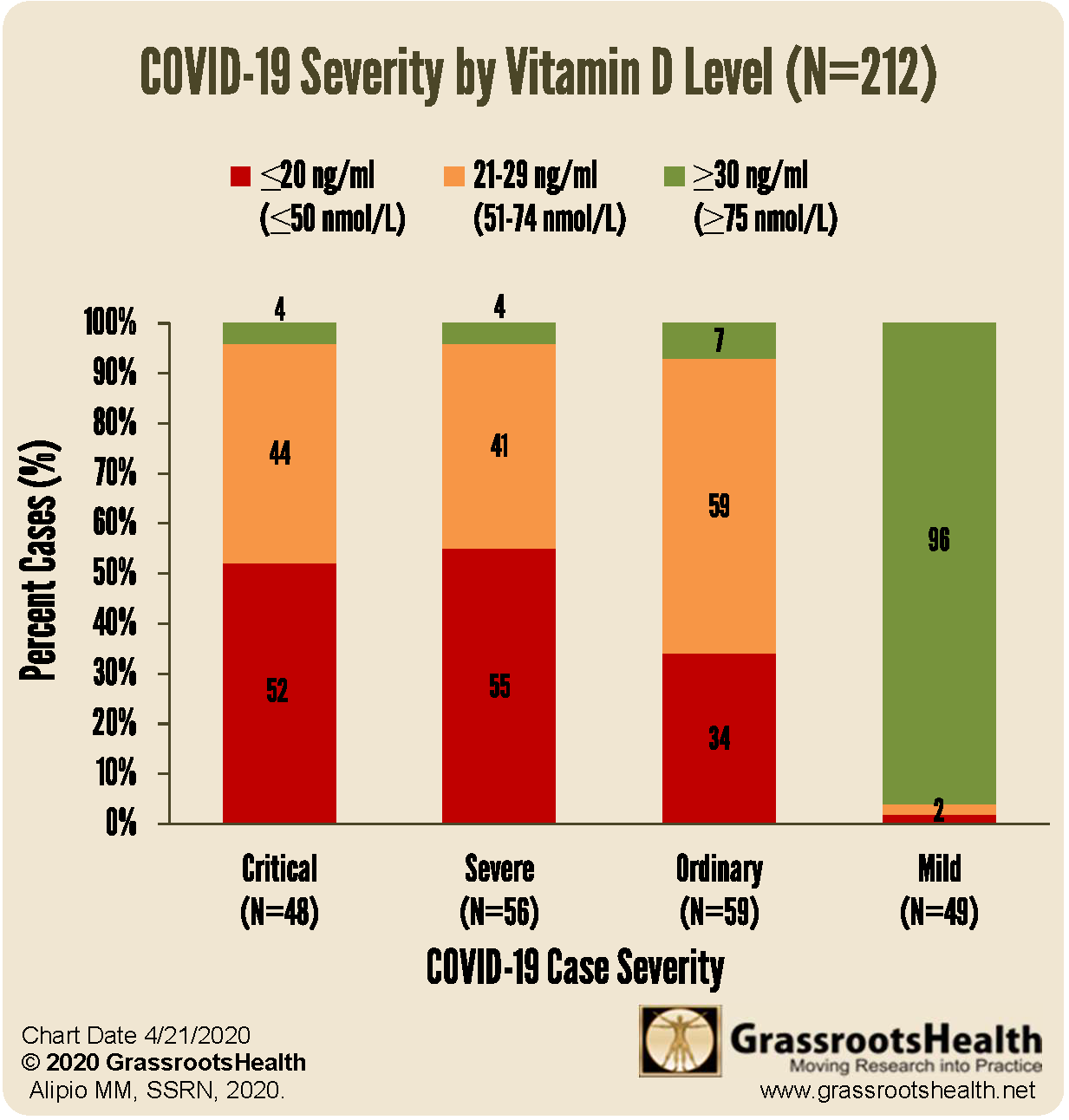 As this limited, but statistically significant data shows, nearly all of those with higher levels of vitamin D generally had far less severe cases of the illness.
The second chart (below) shows that only 13% of the individuals tested (all with COVID-19) had the recommended levels of Vitamin D (greater than 40 ng/ml). This is a serious problem!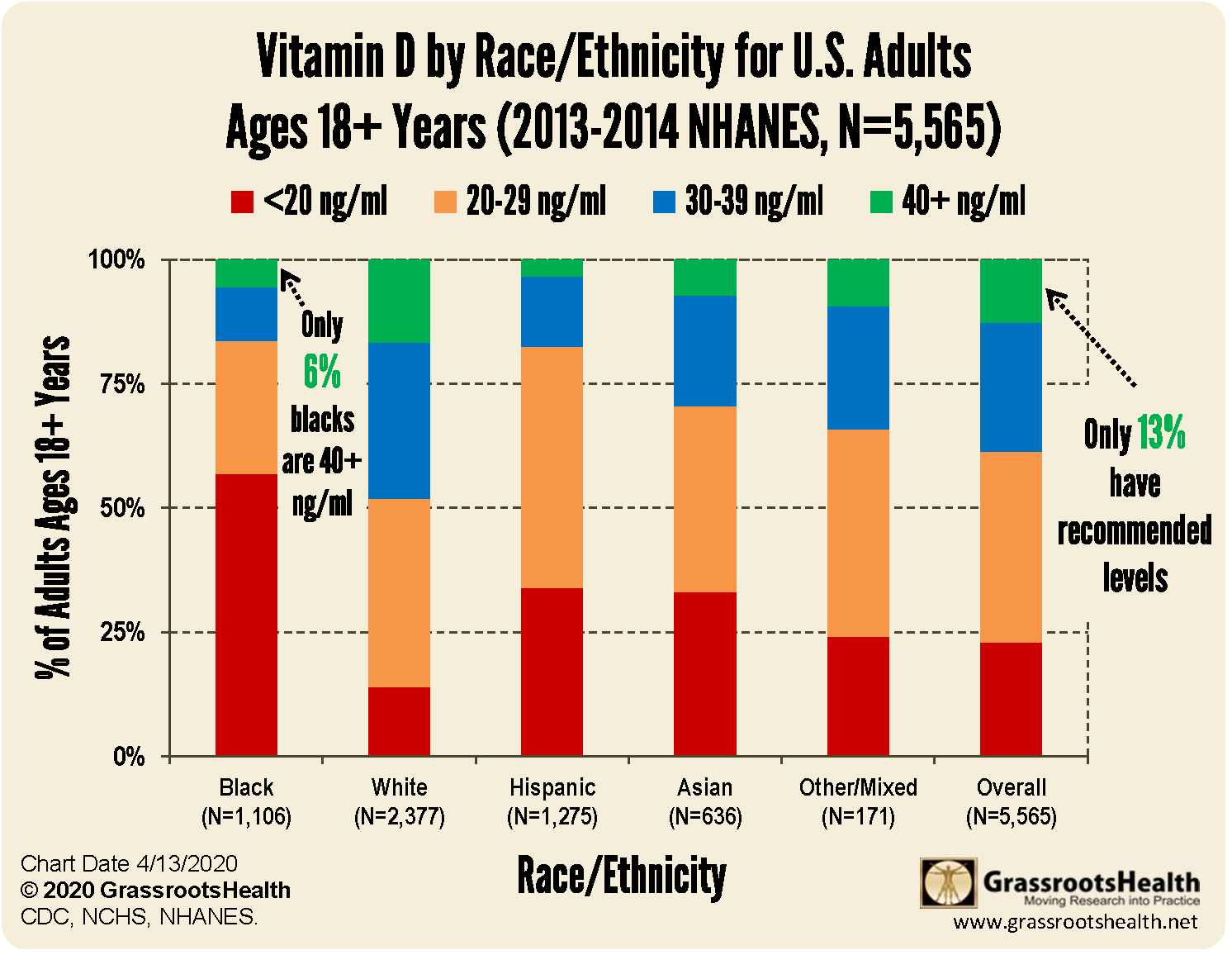 So, now, how to supplement?
Dr. Mercola, for example, has a suitable supplement, with 5,000 IU of Vitamins D3 & 180 mcg of K2. Some people might need one capsule, others may TEMPORARILY need to two. Other supplements out there dose with 1,000 or 2,000 units.
The best action? Don't guess, test. Home test kits (finger prick blood test) cost around $80-100. We don't currently know enough about how these tests are conducted to have an educated opinion on what company would be the best choice. Luckily, it's not rocket science, just choose a reputable company/lab, or check with your doctor!
If you have to guess to start with, you could start with one 5,000 unit dose per day for a period of time, and then do a home test to check your levels.
DO NOT PANIC DOSE with Vitamin D, overdosing can cause kidney failure.
If Dr. Mercola's product of 5,000 units of D (single daily dose) turned out to be an actual serious PROBLEM due to the high dosage level, we probably would have heard about it by now.
Some individuals can't seem to believe that something as simple as Vitamin D can have such a big impact on health. I understand! Devil's advocates like to point out that this is just one single study. That is true!
Therefore, on the science reference page (
https://www.earthcures.org/forum/index.php/topic,175.0.html
), we've added an abundance of research material (influenza) which lends credence to the idea of using Vitamin D in a preventative manner for respiratory viral infections. These studies, some of them massive in scope, were of course NOT done with COVID-19, but with influenza and pneumonia.
The truth is, nobody knows exactly what is going to work with this new coronavirus. However, we have a whole human history dealing with respiratory virii, both pandemic outbreaks and "regular" seasonal "flus".
See the page below which outlines all of the pages we have exploring COVID-19:
https://www.earthcures.org/forum/index.php/topic,184.0.html